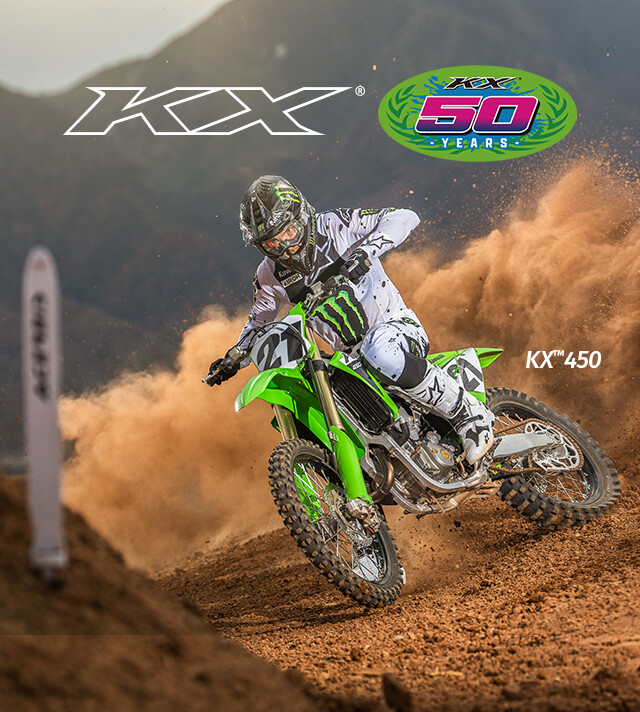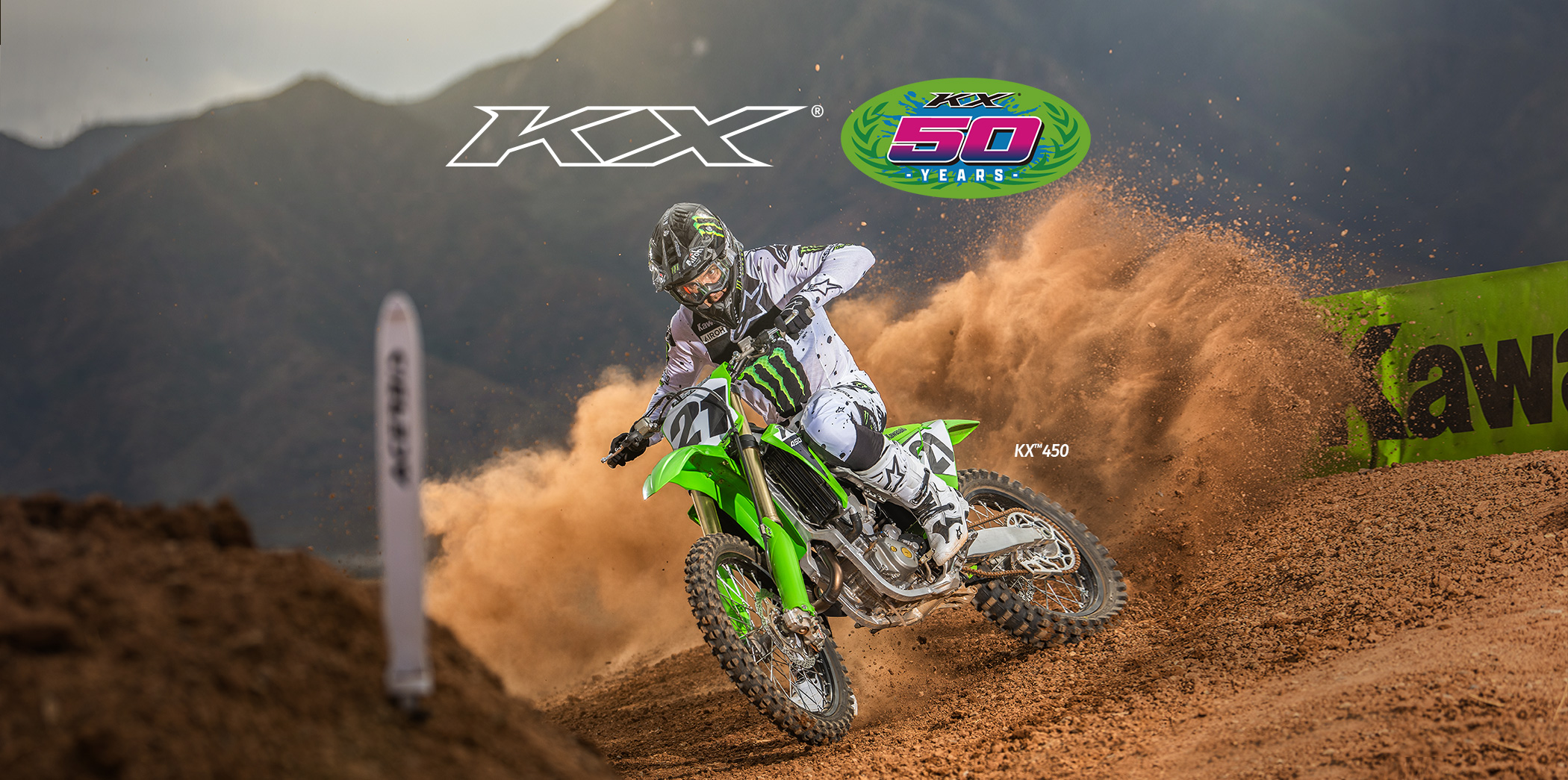 THE BIKE THAT

BUILDS CHAMPIONS
The most storied franchise in the sport of motocross continues today and has no plans of stopping. It is a
reputation earned from giving riders the winning edge time and time again.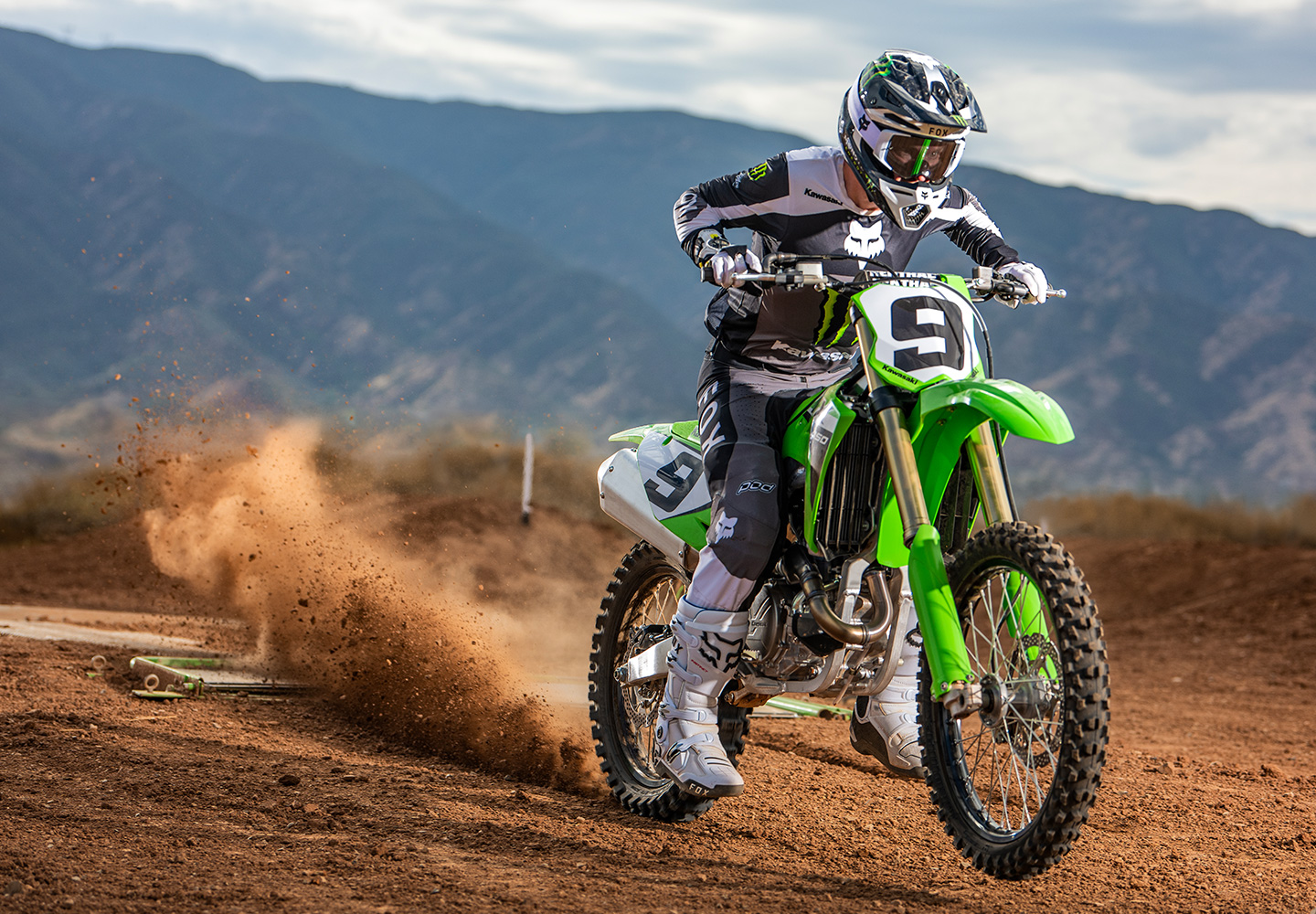 THE NAME SYNONYMOUS WITH WINNING
No other manufacturer is committed to winning like Kawasaki. From the starting gate to the finish line, every KX™ motorcycle is built to take the lead and stay ahead. We believe experience is the greatest engineer. Therefore, we draw from our championship-proven history to keep the podium green.
A CHAMPIONSHIP LEGACY
Legacies are not born overnight. They're built over decades of dedication. To this day, no one can match the legacy that KX™ motorcycles have achieved. We'll keep building championship-winning machines. When you ride KX, the championship legacy is in your hands.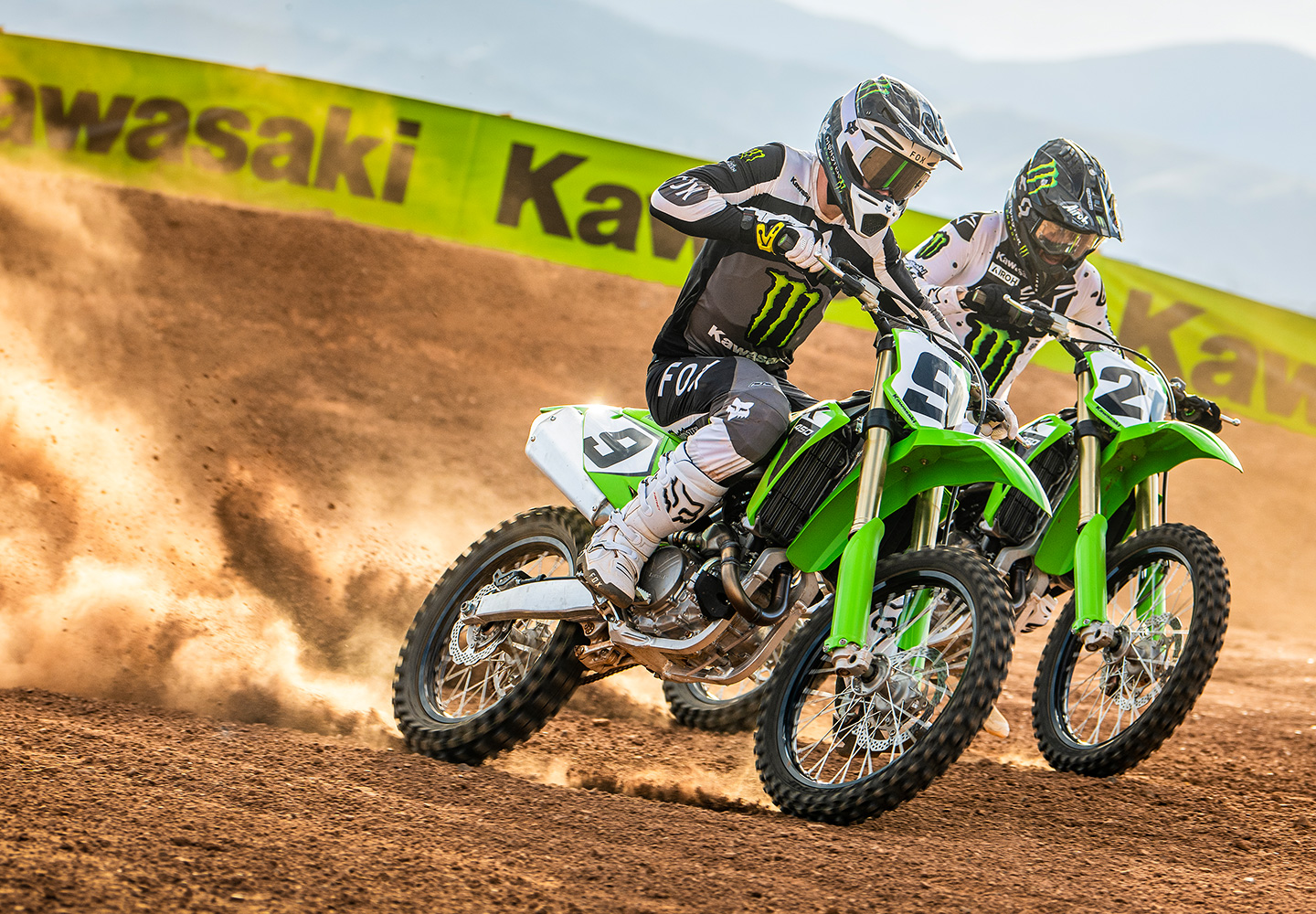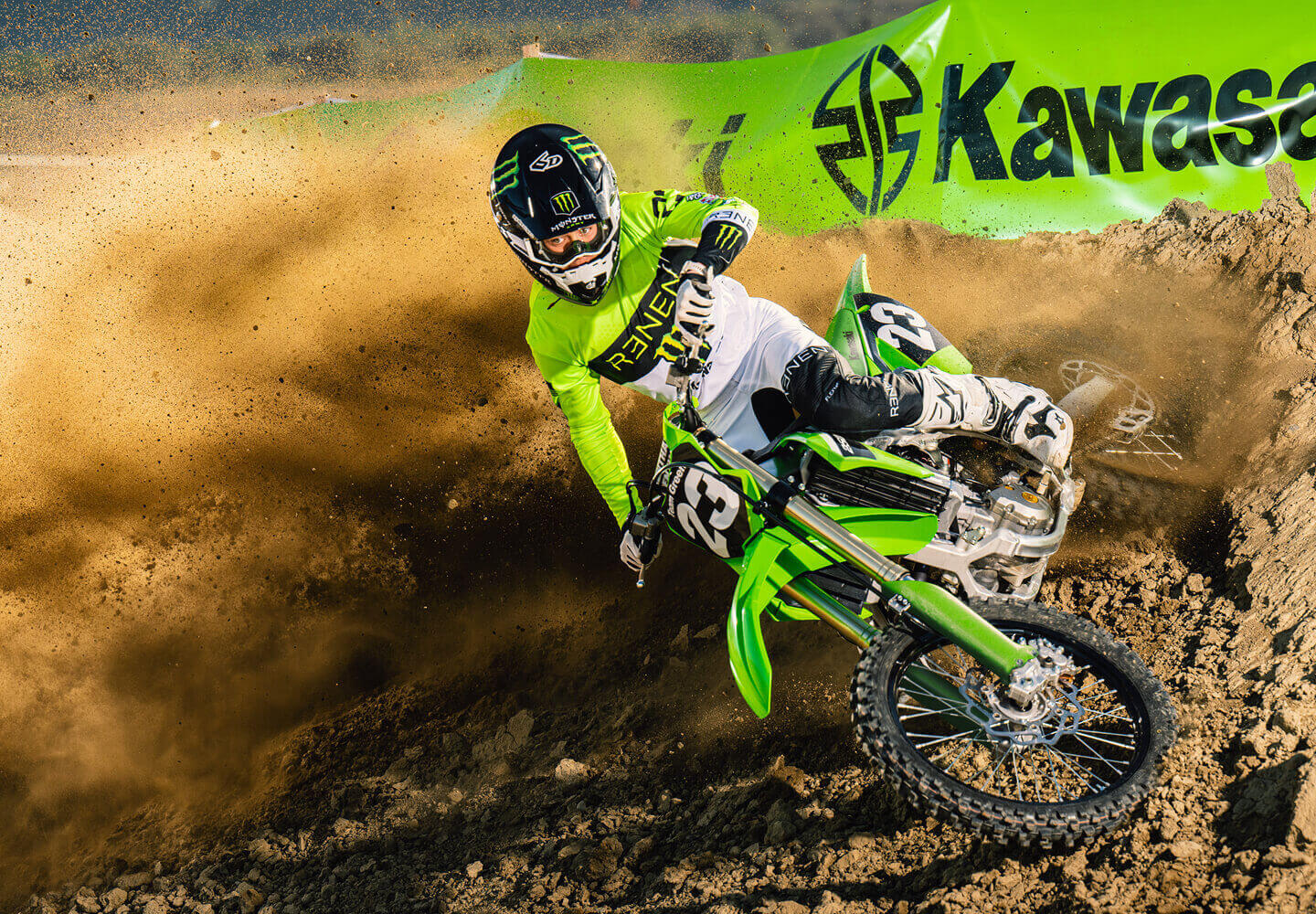 NO ONE ELSE COMES CLOSE
All riders dream of joining the KX™ legacy and standing on top of the podium. Only KX has more supercross and motocross race wins. And only KX has more championships than any other manufacturer.
ALL-NEW 2024 KX
™

450
CHAMPIONSHIP MOMENT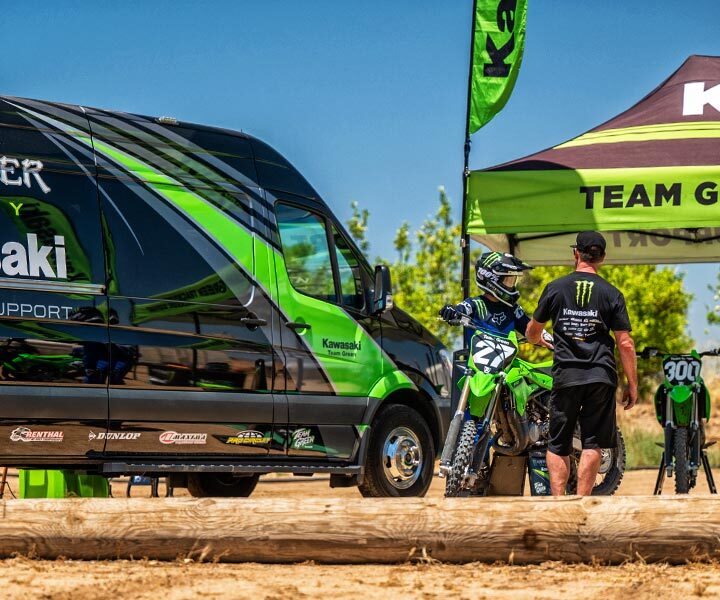 TEAM GREEN
™
We're proud to call Team Green™ the most successful amateur racing program in the world. Team Green has provided industry-leading racing support to aspiring champions. The program offers unparalleled factory trackside support to all Kawasaki riders at over 40 local, regional, and national level racing events. We make sure you stay on track so you can focus on the podium. 
LEARN MORE
Your Legacy Begins Here
Experience race-ready KX™ motorcycles for yourself.
YOUTH MX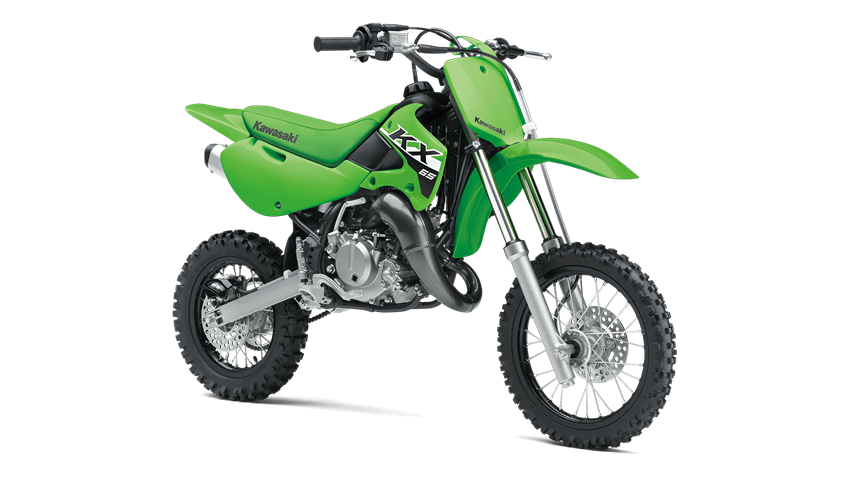 KX™65
$4,199 MSRP
KX™ 65 Specifications

| | |
| --- | --- |
| Engine | 64cc, 2-stroke single, liquid-cooled |
| Front/Rear Wheel Travel | 8.3 in / 9.4 in |
| Front Tire/Rear Tire | 60/100-14 / 80/100-12 |
| Seat Height | 29.9 in |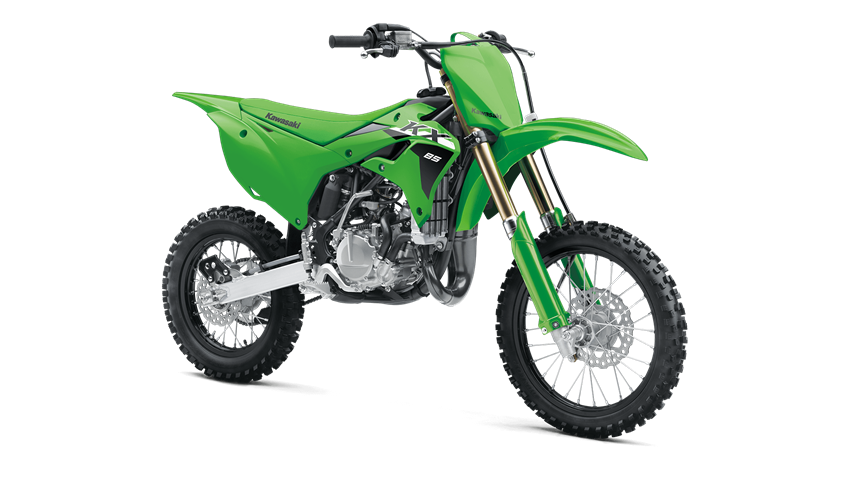 KX™85
$4,899 MSRP
KX™ 85 Specifications

| | |
| --- | --- |
| Engine | 84cc, 2-stroke single with exhaust power valve (KIPS), liquid-cooled |
| Front/Rear Wheel Travel | 10.8 in / 10.8 in |
| Front Tire/Rear Tire | 70/100-17 / 90/100-14 |
| Seat Height | 32.7 in |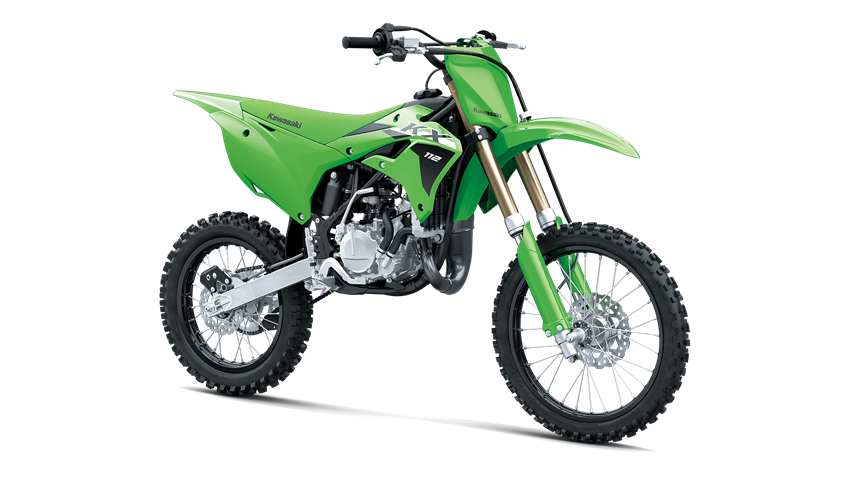 KX™112
$5,599 MSRP
KX™ 100 Specifications

| | |
| --- | --- |
| Engine | 112cc, 2-stroke single with exhaust power valve (KIPS), liquid-cooled |
| Front/Rear Wheel Travel | 10.8 in / 10.8 in |
| Front Tire/Rear Tire | 70/100-19 / 90/100-16 |
| Seat Height | 34.3 in |
FULL-SIZE MX
KX™250
$8,799 MSRP
KX™ 250 Specifications

| | |
| --- | --- |
| Engine | 249cc, 4-stroke single, DOHC, liquid-cooled |
| Front/Rear Wheel Travel | 12.4 in / 12.4 in |
| Front Tire/Rear Tire | 80/100-21 / 110/90-19 |
| Seat Height | 37.8 in |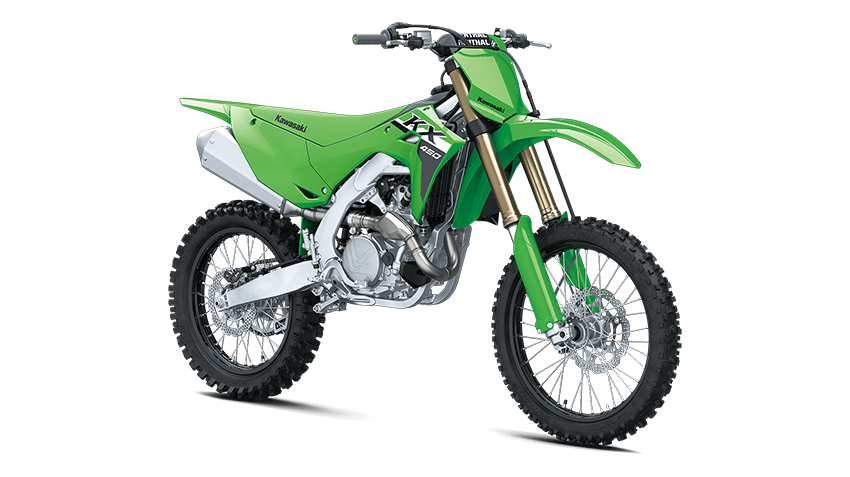 KX™450
$10,399 MSRP
KX™ 450 Specifications

| | |
| --- | --- |
| Engine | 449cc, 4-stroke single, DOHC, liquid-cooled |
| Front/Rear Wheel Travel | 12.0 in / 12.1 in |
| Front Tire/Rear Tire | 80/100-21 / 120/80-19 |
| Seat Height | 37.8 in |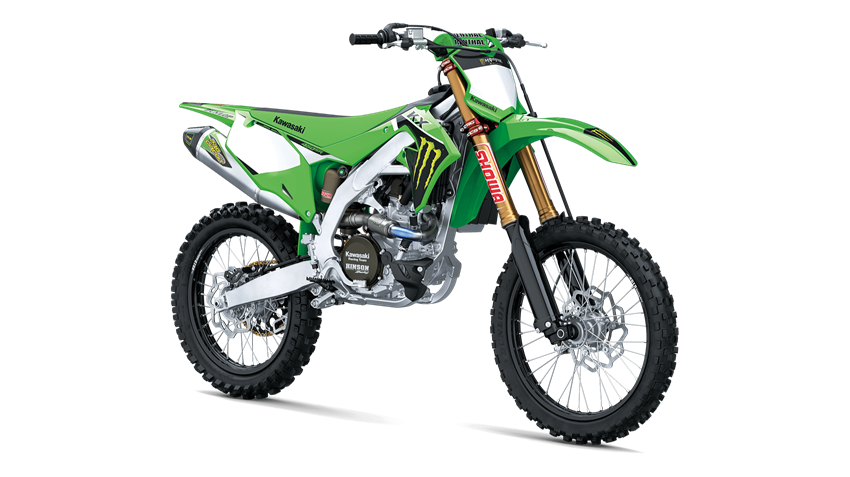 KX™450SR
$12,699 MSRP
KX™ 450SR Specifications

| | |
| --- | --- |
| Engine | 449cc, 4-stroke single, DOHC, liquid-cooled |
| Front/Rear Wheel Travel | 12.0 in / 12.1 in |
| Front Tire/Rear Tire | 80/100-21 / 120/80-19 |
| Seat Height | 37.6 in |
Full-Size Cross Country
KX™250X
$8,899 MSRP
KX™250X Specifications

| | |
| --- | --- |
| Engine | 249cc, 4-stroke single, DOHC, liquid-cooled |
| Front/Rear Wheel Travel | 12.4 in / 12.4 in |
| Front Tire/Rear Tire | 80/100-21 / 110/100-18 |
| Seat Height | 37.2 in |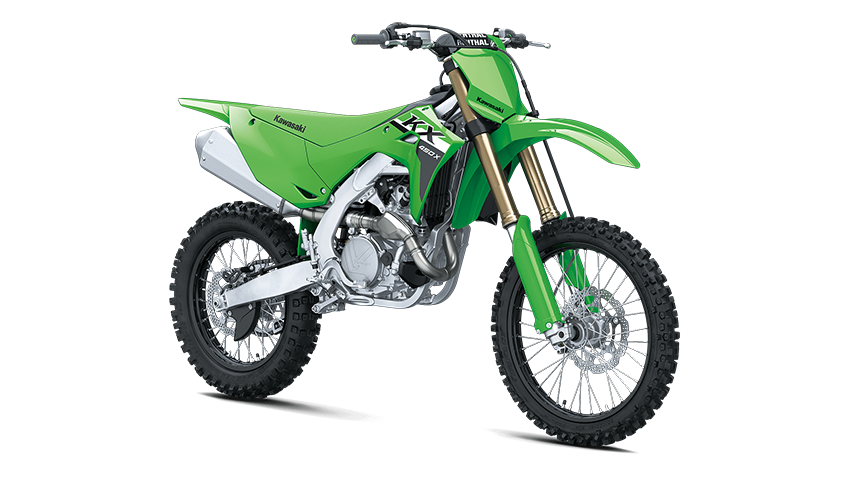 KX™450X
$10,599 MSRP
KX™450X Specifications

| | |
| --- | --- |
| Engine | 449cc, 4-stroke single, DOHC, liquid-cooled |
| Front/Rear Wheel Travel | 12.0 in / 12.1 in |
| Front Tire/Rear Tire | 80/100-21 / 120/90-18 |
| Seat Height | 37.4 in |