< Back to Racing News
Aug 1, 2021
Mathys Boisrame Confirms Top Five World Ranking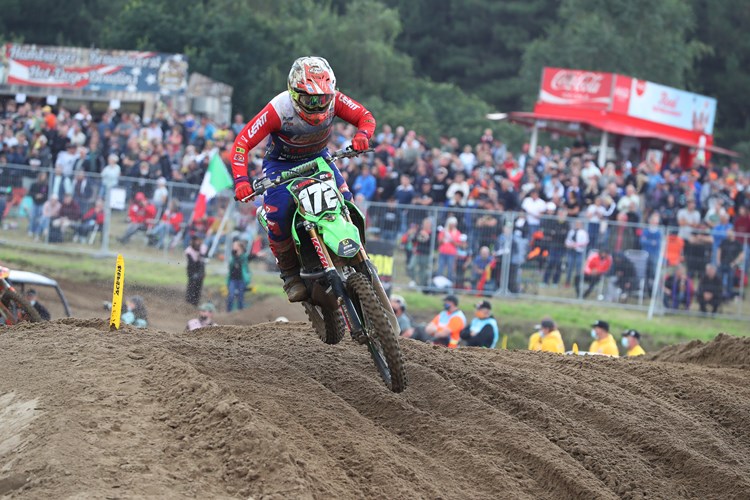 Mathys Boisrame
Mathys Boisrame of the F&H Kawasaki MX2 Racing Team confirmed his top five ranking in the FIM World MX2 Motocross Championship after a tough day for eighth in the deep Flemish sand of Lommel.
The unrelenting bottomless sand of the infamous circuit in the north-eastern corner of Belgium demands everything of the contestants and is a dreaded round of the series for riders not raised locally in Benelux. The Frenchman showed spirit to qualify within a second of the top three and shrugged off a difficult first turn to advance to fifth within a couple of laps, finding good rhythm to hold that position until a couple of local sand experts eventually pushed him back to seventh. He moved quickly forward from 10th to eighth in race two and concentrated on riding a consistent pace to maintain that position to the finish. He was also eighth overall on the day. He has surrendered one position in the championship standings to the Lommel GP winner but, remains in solid contention for series honors in fifth position.

Mathys Boisrame: "I feel pretty happy with my riding today; it was much better than the last couple of weekends. In the first moto I got a good start but, in the first corner Tom (Vialle) moved across me and I lost time; I was around 10th at the second corner. I had a good first two laps to move to fifth and I tried to ride smooth and safe; I didn't make any mistakes and finished seventh so that was a decent moto. My second start wasn't so good, then with the rain my mechanic signalled me to take care of the bike in the wet sand but, I finished eighth. We all know that Lommel is the toughest round of the season, so to finish twice in the top eight is not so bad. The next GP is Kegums; I have some good memories for this one, but first I need further medical examinations to my knee I injured at Loket. After Latvia we'll have a break to prepare for the second part of the championship."

F&H teammate Mikkel Haarup showed his liking for sand with fifth-fastest time in Qualifying and came through turn one of the first moto in the first ten despite hesitation at the gate when he almost reacted too early. After a solid first few laps as he disputed seventh with an eventual podium rival he lost his rhythm mid-moto and was pushed back to 11th before regaining his composure in the final laps to finish ninth. A difficult second moto saw the young Dane finish 14th to tie on points for the top ten on the day; he remains 14th in the series standings.

Mikkel Haarup: "My day was a little up-and-down. I felt confident even before Qualifying; I showed my speed with P5 and I did several decent laps. I felt fast at the beginning and the end of race one, but struggled to keep my rhythm in the middle; still I came back for ninth at the finish. I couldn't find my usual riding in race two, but I gave it all I could and had to settle for 14th; I wanted more but I did what I could. I just have to keep working and it will come."

Roan van de Moosdijk, the third member of the F&H team, had to sit out the Belgian GP. A thorough medical examination after his return home from the Czech Republic on Monday revealed that the Dutch youngster had broken a scaphoid when he crashed in the second race at Loket. He has already undergone an operation, but no date has yet been fixed for a return to racing. His absence meant he relinquished one position in the points standings and is now 10th.

Bike It MTX Kawasaki's Wilson Todd had a tough introduction to the deep Lommel sand. A respectable 13th in Qualifying, the Australian charged from 23rd to 14th during the first half of race one before being forced out. A lightening start in race two saw him round turn one in the top six but the joy did not last long as a fall at turn three put him at the back of the field; he bravely persisted to the end to finish 23rd despite two further falls. He is now 13th in the series points standings.